Waltersnoden, 29
it's been a while
Orange County, CA, USA
Find Other Singles In
California!
Tapatioooo!!
Tapatioooo!! Theeee best
About Me
Hobbies & Interests
baking, board games, computers, cooking & recipes, internet, killing zombies, movies, music, photography, puzzles and brain teasers, reading, shopping, sports, television, video games
Body Type
a few extra pounds, average
Movies
action, comedy, drama, horror, indie, steamy, romantic comedy, sci-fi
Hair Color
a little gray, black, white / gray
Ethnicity
Hispanic / Latino
Relationship
seeing someone
Have Kids
no - maybe with the right person, yes - grown and out of the house
Education Level
high school grad, some high school
Profession
Food Service, Internet
Income level
that's private
Do you smoke?
no - open to dating smokers though, socially
I currently live
family and friends visit often, on a pirate ship
Socially, I am
a couch potato, better in small groups, class clown, comic relief, flirt, home body, social butterfly, the life of the party
Political Views
not interested in politics
Food Related
BRAINS!!!, Chinese, Comfort, Fast Food, Fine Dining, Hot Sauce on Everything, Junk Food Junkie, Spicy
Personality
burner (burning man participant), clown, flirt, fun loving, hipster, intellectual, pirate, playa, professional, punk, romantic, total slacker
Individuality
cougar lover, ninja, pirate at heart, vampire
Religious Views
Christian
I'm looking for
conversation, friends only, penpal
My Sign
i was born in may
Music
Alternative Rock, Classical, Death Metal, Funk, Gospel, Hard Rock, Hardcore, Heavy Metal, Hip Hop, House, Indie, Industrial, Metal, Post Rock, Progressive Rock, Punk, R and B, Rap, Reggae, Rock, Screamo, Techno, Trance, World
Hair Style
flattop, straightened
Fitness & Sports
basketball, bowling, cycling, dancing, football (U.S.), hiking, martial arts, parkour, soccer (U.S.), swimming, tennis, walking, weightlifting, working out, wrestling
My Photos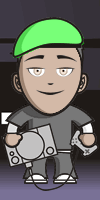 A group for those who can handle the highest levels of heat and seek out the hottest hot sauces.
NO STINKY DATES Amazon Ads
Find Other Singles In
California!



















NO STINKY DATES Amazon Ads




Hot Sauce / Fiery Sites
Hot Sauce / Chili Pepper Info
Hot Sauce Blog Sites
Hot Sauce Resources
Miscellaneous
Online Dating Sites
Webcam Sites
Personals / Chat Sites
Funny Sites
FIND Other Singles In
California
Ad Partner